Sweet Orange, often referred to as simply Orange Oil, is versatile, afforable, and incredibly uplifting. Its aroma is strong, invigorating, and uplifting. Overall, Sweet orange oil is a winner on every premise.

Sweet Orange is an antimicrobial, often used when cleaning or sanitizing.

With a fresh and citrusy scent, Sweet Orange is known for its stress reducing and mood lifting qualities.
This essential oil is certified organic, processed meticulously and to the highest standards set by the USDA.

Botanical Name: Citrus sinensis
Family Name: Rutaceae
Common Names: Orange Oil
INCI: Citrus aurantium dulcis (Orange) Peel Oil
Parts Used: Citrus rind
Extraction Method: Cold Pressed
Scent: Citrusy and sweet
Appearance: Pale yellow to orange
Natural: Yes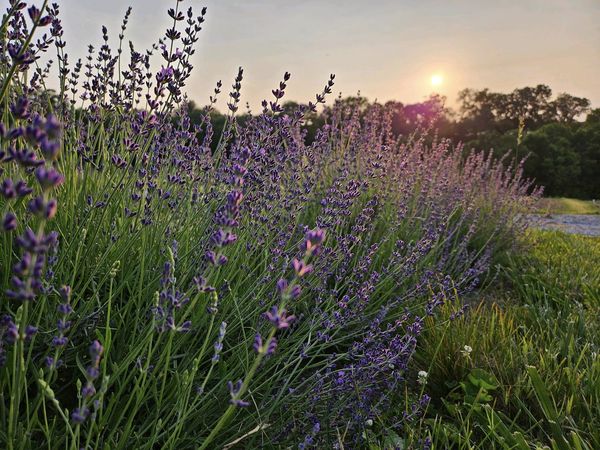 Cut your own Lavender
During our 2023 lavender season (June 1st thru July 7th), you can reserve time to come to the farm and cut your own lavender. The charge is $10.00 per adult (16+), $5.00 per youth (5 - 15), children under 5 are free. The fee covers 1 hour on the farm and 1 bundle of lavender.
Each bundle should be about 80-100 lavender stems. We give you a section of pipe cleaner and you can cut as much as you want that the pipe cleaner can contain.
You may cut more than 1 bundle and each additional bundle is $10.00 each.
Times may be extended dependent upon the volume of total reservation in the next hour. We want to limit the farm to about 15 to 20 families in the field at a time. This is primarily due to our parking capacity and our desire to maintain an open feel to the farm.
Online appointments for cut your own bundles can be made June 1st - July 7th for the entire field. After July 7th no appointment is needed for cut your own lavender, but only French lavender will be available for a limited time as the English varieties are already harvested. After August 7th the lavender will all be harvested and the season over.
Button label